Keeping your dog entertained can be a challenge. And trying to come up with new ideas on how to keep your dog busy can be more exhausting than actually getting up and doing it.


Bored dogs get into trouble. We're their main source of entertainment, so if we're not giving them stuff to do they'll come up with activities of their own — and that's when we end up with chewed up shoes and curtains.


By playing with your dog a few times a day you can decrease the likelihood of them developing destructive habits such as excessive barking or chewing.


Here's the list of some new ideas for indoor activities to keep your dog busy:




1. Play the the Shell Game With Your Dog


The shell game is a simple problem solving game for dogs. To play the shell game with your dog let your dog watch as you place a treat under one of three cups. You then shuffle the cups around and encourage them to 'find the treat.' The shell game gives your dog plenty of mental stimulation, and helps them work on their problem solving skills.


Don't let this cat put your dog to shame:




2. Play a Game of Tug of War With Your Dog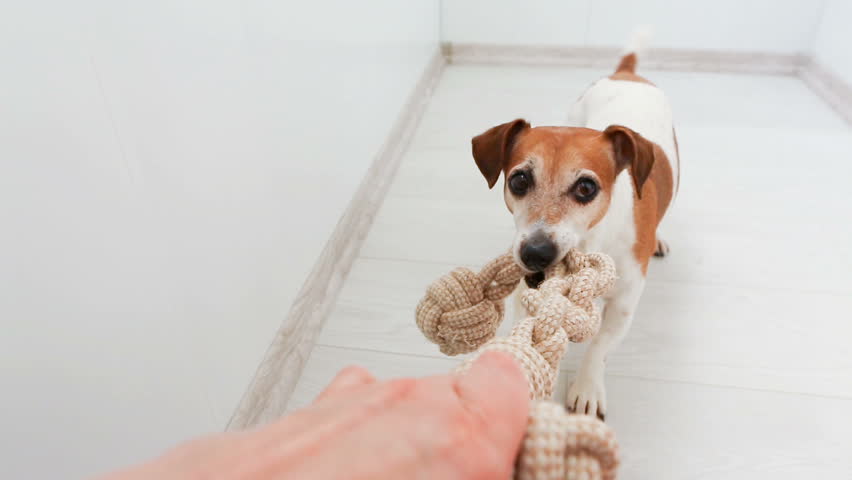 Playing a game of tug of war is one of the best ways to engage in meaningful play with our dogs. It's a great way to mentally and physically exercise your dog. And since it doesn't require a ton of room you can play it indoors.


And contrary to what some people say playing tug will not make your dog aggressive, and letting them win will not make them dominant. Letting your dog win just makes the game more fun for your dog, and it will encourage them to play more. Dogs that play tug with their owners have been found to be more obedient and have higher confidence.


Tug is a great way to exercise your dog as long as you have your dog follow a the basic rules of tug such as 'the game stops if your teeth touch my hand.'


3. Teach Your Dog to Clean Up His Toys




If your dog's toys are kept in a container you can teach them to put their toys away. I know it sounds weird to teach your dog to clean up after themselves, but it's actually a lot of fun. Teaching your dog new skills boosts their confidence, and it's a great way to give them more mental stimulation.
If your dog already knows "drop it" have them pick up a toy and give them their drop it command once they're standing over the container. Praise them like crazy, then rinse and repeat. Eventually with consistency you'll have a dog that will be able to clean up after himself.


4. 6. Teach Your Dog to Help With Chores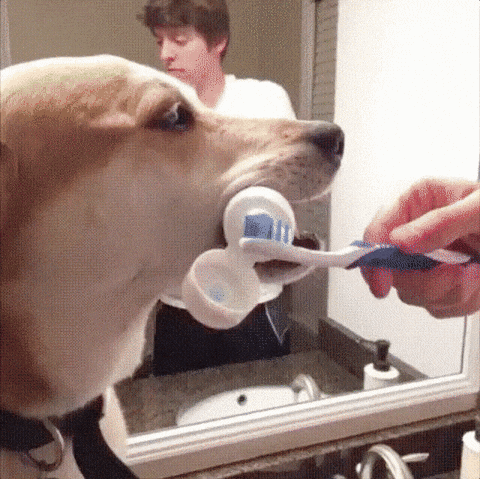 Dogs love having a job to do, even if it's something as simple as fetching you your slippers. You can make them feel even more useful by teaching them the names of some items you wouldn't mind having retrieved.


If you want to impress all of your friends teach your dog to fetch you something from the fridge. When teaching your dog to open the fridge tie a towel around the handle so it's easy for them to pull open the door. And if you're feeling like a superstar you can teach your dog to help out with daily chores.


5. Make Your Dog Work for His Food




We give our dogs a nice comfy life – they get a warm bed, lots of attention, and their meals for free. But our dogs were bred to work alongside us, many of our dogs are missing out on some mentally stimulating activities.


One of the easiest ways to challenge their minds is to make them work for their meals. You can make your dog perform some tricks before he gets his dinner, or you can have them eat from a food dispensing toy.


6. Play The Which Hand Game With Your Dog




If you've been thinking about teaching your dog some scent work games this is a great game to get you started. The only thing you'll need is some dog treats, and if don't any on hand you can use some chopped up fruits & veggies or make your own homemade dog treats.


How to Play the Which Hand Game:


Place a treat in one of your hands.
Close your fists and hold them out in front of your dog.
Let the dog choose which hand it's in.
When your dog sniffs or paws the correct hand open it up and give them the treat.
If he chooses incorrectly don't discourage him, it takes a few tries to catch on.
A gentle "touch" command will be helpful.


Tip: Chopped up carrots make excellent treats for scent work games and training. They're low in calories, easy to prepare, and (most) dogs absolutely love them.


7. Master The Art of Doggie Massage


Learning how to give a dog massage is enriching for owner and dog alike. A nice massage can help soothe and relax nearly any dog.


And dog massages are great for older dogs or those with arthritis, it helps soothe sore and achy joints. Giving your dog a massage reduces anxiety, relieves stress, improves circulation, and creates a great bond between you and your dog.




8. Teach Your Dog to Chase Bubbles


I don't know why but some dogs are fascinated by catching bubbles. There's even a wide selection of pet bubble making toys on the market. You don't have to go out and buy special bubbles either – the bubbles that are available for children are nontoxic. If you have a child in the home here's some proof that babies, dogs and bubbles are the most adorable thing on the planet.




Seriously, a few 3-5 minute sessions of chasing bubbles can work wonders for your dog!


9. Snuggle Up & Relax With Your Dog




After a nice training session or game there's nothing better than a little bit of relaxation. We all need time to unwind, and many of our dogs love to lounge around with us. Each night before bedtime you can sit on the couch with your dog for a bit. 


How do you keep your dog entertained indoors?