Because most health issues that afflict beagles are hereditary and unrelated to their diet, beagles do not have many specific dietary requirements. In most cases, you simply need to select a healthy food that your beagle finds palatable and you find affordable.



Be sure that you don't over-feed your beagle, no matter which food you choose. Most dogs require about 30 Calories per pound of body weight, per day to maintain their weight, although small dogs (who radiate heat much more quickly than large dogs do), may need closer to 40 Calories per pound. Accordingly, a 20-pound beagle would need about 600 to 800 Calories per day.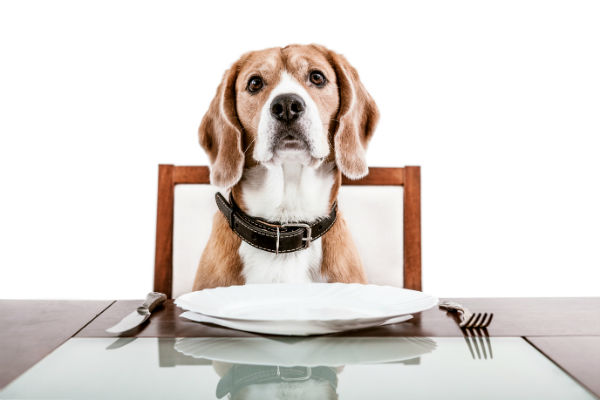 This calorie range will typically keep most beagles svelte, but be sure to adjust the figure to accommodate your pup's activity level and status (altered dogs have slightly lower caloric needs than unaltered pets do). However, it may be wise to select a weight-control formula if your beagle is already bulging a bit too much.


If your Beagle needs to lose weight, start by cutting back 1/8th of his food. Track his weight and see if there is any change. If not you can cut back a little more. It took months if not years for your Beagle to collect all the extra pounds and it can take just as long for him to burn them off. So don't expect drastic changes overnight, but instead aim for gradual but steady weight change. 


The following six dog foods should suit your beagle well. The first three options are standard recipes, while the final three are weight-control formulas, which may be good options for owners of beagles with weight issues.


Be sure to discuss your pet's nutritional needs with your vet before switching foods or selecting a weight-loss formula.


---
1. Orijen Regional Red for Dogs


About: Orijen makes a number of very nutritious, biologically appropriate recipes based on regionally sourced ingredients. Regional Red is one of the best rated, and it is easy to see why once you start perusing the ingredient list.


Features:
Two-thirds of the meat products in Regional Red are fresh or raw.

38% of the calories in Regional Red come from protein sources, while only 20% come from carbohydrates.
Made with a variety of anatomical components, including muscle meat, cartilage and organ meats.




2. Blue Buffalo Wilderness Rocky Mountain Recipe




About: Blue Buffalo Wilderness Rocky Mountain Recipe is available in a small breed formulation, which will suit your little beagle very well. One of the best brands around, Blue Buffalo makes high-quality foods with plenty of nutrition packed into each bite.


Features:
Deboned beef – a great protein source — is the first listed ingredient.

100% grain-free, high-protein recipe provides the type of nutrition your dog needs.
Blue Buffalo Wilderness is made in the USA.




Order Here and Get 10% Off at HealthyPets.com Use Code HUGS10


3. Taste of the Wild, Canine Formula




About: Taste of the Wild is designed to mimic the diet of your beagle's wolf ancestors. Because it is made with real roasted meats, it provides the kind of nutrition you want for your pup, along with the great taste he deserves.


Features:
Buffalo is the first listed ingredient, but several other great proteins are also included.

100% grain-free recipe relies on sweet potatoes, potatoes and peas for its carbohydrate content.
Taste of the Wild is made in one of three facilities, all of which are located in the USA.




4. Solid Gold Holistic Dry Dog Food




About: Solid Gold Holistic is a great option for those who prefer a food made from a company that embraces a holistic approach to your dog's nutrition. Solid Gold has been doing exactly that for the past 40 years – longer than any other American manufacturer!


Features:
Pollock – a nutritious fish hailing from Alaskan waters – is the first listed ingredient.

Solid Gold Holistic is made with 20 different "superfoods" including blueberries, spinach, almonds and more.
All Solid Gold foods are made in the USA.




5. Blue Buffalo Life Protection Healthy Weight




About: It is a good option for owners of overweight beagles. Like all other Blue Buffalo products, their Healthy Weight recipe is designed to provide your dog with a nutritious food that tastes great.


Features:
Deboned chicken is the first listed ingredient; it's also one that many dogs love.

Whole grains are used to provide the complex carbohydrates your energetic beagle needs.
Made with glucosamine and chondroitin to protect your dog's joints.
Blue Buffalo Life Protection is made in the USA.




6. Nutro Lite and Weight Management Dog Food




About: Nutro Lite and Weight Management is a low-calorie formula designed to help portly dogs shed a few extra pounds. Like most other Nutro products, it is packed with nutritious ingredients and most dogs love the taste.


Features:
Deboned lamb is the first listed ingredient and primary protein source.

Made without any artificial colors, artificial flavors or genetically modified organisms (GMOs).
Nutro products are made in the USA.




Compare the potential options and try to make the best decision for your little pup - some beagles struggle with weight gain, and may therefore be best served by one of the weight-control recipes detailed above, most simply need a high-quality dog food.


Have you found a great food that keeps your beagle healthy and happy?