1. Over Use of Cosmetics






In an episode of "Running Wild With Bear Grylls" Courteney Cox admitted how she let cosmetics ruin her life.. 
"I have done things that I regret, and luckily they're things that dissolve and go away, so that's good, because that's not always been my best look."
Without a doubt, Monica was indeed really very very pretty in the initial seasons. But gradually her beauty was destroyed by the overuse of makeups and surgeries.
2. Pregnancy and Miscarriage. 
Like the on-screen Monica, Courteney too had trouble getting pregnant when she was with David Arquette. 
Not only this, Courteney suffered a miscarriage just before the episode where Emma was born. We just can't imagine how hard would it had been for Courteney to shoot a scene of child birth in such a time.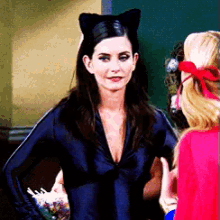 3. Sufferings


Courteney revealed that she was suffering from  MTHFR gene mutation, which affects her body's methylation and can cause a host of mental and physical health problems. 
Not only this, she also said, "I suffered miscarriages, my dad died of a really rare cancer, and depression runs in my family, which made my doctor think I should get this gene checked out."